If your local liquor store's been short on Michter's 10 Year Old Rye lately, you can blame that on Willie "Dr. No" Pratt, the brand's master distiller, who held up any new bottling throughout 2015 until the stocks met his quality criterion. But the supply situation should change as he's recently relented, and the new release of the single barrel will reach stores in March.
The reason for the holdup wasn't shortage of 10-year-old stock, Pratt explains, it just hadn't reached the correct flavor profile to match other bottlings of the whiskey first released in 2014. "We get questions about when's the next 10-year release all the time," he says. "That's something we don't really say. We [did have] planned 10-year releases, but from one year to the next we don't know that it is actually going to happen."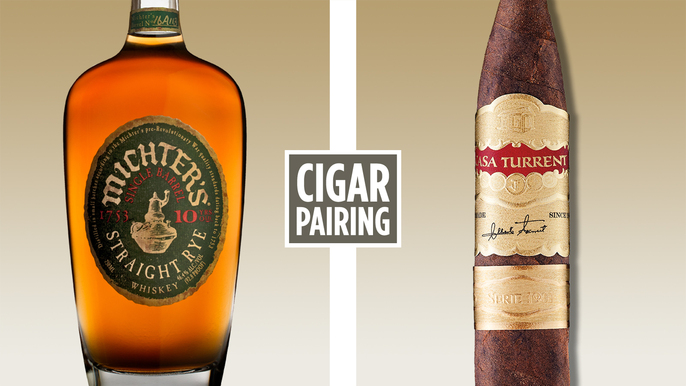 Michter's president Joseph Magliocco adds that he had felt the whiskey was ready for release in 2015 when it reached its minimum age statement, "but Willie's the ultimate arbiter. We're not a just-in-time company."
Nevertheless, 2015 provided quite some buzz for the company as it began distilling in August from its new stills at the distillery in the Shively section of Louisville, Kentucky. Magliocco says this is phase three for the company that began marketing Michter's in 2004. Michter's originated from a Pennsylvania distillery that closed in 1989 before Chatham Imports took over the brand. The first phase, Magliocco explains, was one in which the company tasted and procured whiskeys for bottling that had already been distilled and aged by other distilleries. In the second phase, Michter's had whiskey distilled for them based on its own recipes and aged to its own specifications.
With the third phase, the brand controls all production segments. Magliocco says that whiskey totally made in its own facility will not hit shelves for at least six years: "It's a moving target." However, the Shively distillery has already been used as a maturation facility.
Michter's warehouses at Shively and off-premise warehouses, where the company rents space, practice heat cycling. Pratt says this is a method that offers additional maturity. The premise is that maturity comes with heat cycles that force alcohol in and out of the wood of the barrels it rests in. Kentucky's hot summer with intermittent temperature swings provide natural cycles. However, the distiller says, a stretch between September through February doesn't provide for much expansion and contraction. During that time, the warehouses are heated and cooled in 13 degree Fahrenheit fluctuations to induce extra cycling. Pratt says he feels this replicates an extra six months of aging a year.
That technique, he adds, is curtailed with older stock (some as old as 25 years) that doesn't require the extra flavor cycling.
Michter's new stills were custom-made for the facility by Vendome Copper & Brass Works, the Louisville constructor of stills. They include a column that soars 46 feet and has a diameter of 32 inches. It includes 19 perforated trays as well as extra baffles at the top, meant to reduce "the bad guys" (off-tastes such as fusel oil). Its pot still, used for a second distillation, is operated as a "doubler" (liquid distillation), but can be utilized as a thumper (vapor distillation).
Other distinguishing characteristics of the Michter's process include distilling to a low proof (about 103) and heavy toasting of barrels. (Magliocco says this makes for a thicker redline in the staves, which have been air-dried for 18 months, well beyond the industry standard.)
While Michter's labels include a variety of whiskeys, such as Bourbon, it is rye that has the most historical resonance for the brand as that was the first whiskey distilled by the original Pennsylvania distillery. While Pratt doesn't release the specifics of the rye's mashbill, he does say that it is in line with the more nuanced style of Kentucky straight ryes, with a restrained rye content (there must be at least 51 percent of the grain). This is in contrast to many contemporary ryes that have come out of Indiana and are extremely rye-forward with grain formulae that may include 90 to 100 percent rye. To achieve such levels requires the use of enzymes, a move that Pratt eschews.
The result is complex whiskey that encompasses spicy, savory notes as well as sweetness…and of course suggested a cigar pairing.
Michter's 10 Year Rye (92.8 proof, or 46.4 percent alcohol by volume; 10 years old, single cask, drawn from barrel 16A113; $150 a 750-milliliter bottle)
APPEARANCE: Deep amber with a hint of red. Very slow, tiny legs turn into globules.
NOSE: Opens with fruits (plums, grapes, black cherries). Veers into a rich, olive oil place before showing off its spice with licorice as well as rich caramel and nougat barrel notes.
PALATE: A revisit to the fruits of the bouquet, quickly transforms into a luxurious mix of nuts and spices with toasty oak and very sweet absinthe notes. This whiskey hits on all the flavor senses (sweet, spicy, salty, savory), excepting bitter.
FINISH: The finish reprises all of the notes of the palate, pinging on the sweet, spicy and hearty flavors for an eternity. This is a flavor safari you want to go on.
CIGAR PAIRING: Casa Turrent 1901 Torpedo (5 1/2 inches by 50 ring gauge, $9.00; 90 points; Cigar Aficionado February 2016) A flatly pressed torpedo with a dark, maduro wrapper. There's an earthy, incense quality to the smoke along with notes of dark chocolate and a licorice finish. A medium-bodied cigar. We paired these hoping the licorice elements on each would jibe—which happened, but much more than the just heightened anise flavors on each. We got a lot more chocolate and nuts from the cigar as well as generally savory character in the marriage as a whole. A great synergy erupts from these two partners.