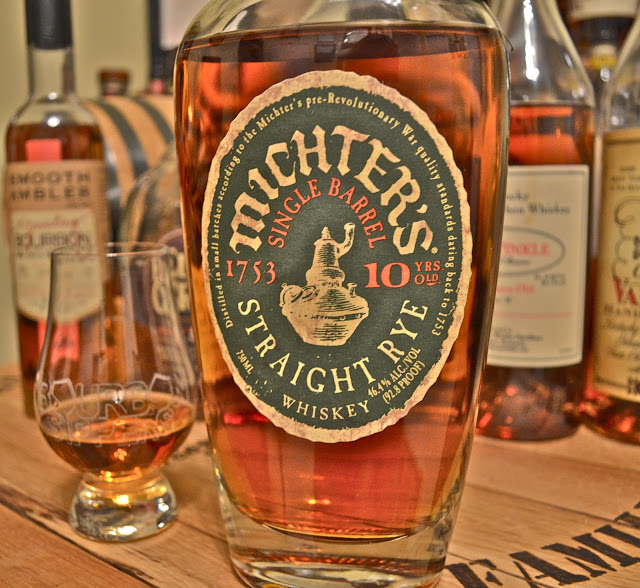 Michter's 10 Year Old Single Barrel Rye is a 92.8 proof beauty, distilled somewhere in Kentucky, sourced by Chatham Imports, and bottled/sold by Michter's Distillery in Louisville. Michter's didn't release a 10 year old rye in 2015, as master distiller Willie Pratt wanted to let these barrels age a tad longer. The 2016 expression was released this month and is likely 11-12 years old.
We've previously reviewed Michter's Small Batch Bourbon, Michter's Unblended American Whiskey, and Michter's Barrel Strength Rye. We also have a bottle of Michter's Toasted Barrel, and I tried a pour of Michter's 10 Year Old Single Barrel Bourbon (2013 release) at The Crunkleton in Chapel Hill, NC a few weeks ago. It was awesome.
We've also written about the history of Michter's and we've reviewed 1970s Michter's whiskey distilled at the abandoned distillery in Schaefferstown, PA. As an American history enthusiast and a millennial, it took me time to accept the "new" Michter's. But their products are outstanding, and had Joe Magliocco not revived the brand, we wouldn't be talking about it, would we?
Michter's 10 Year Old Single Barrel Rye

Michter's/Chatham Imports
92.8 proof
$150 MSRP*
Color: Medium amber, with an orangey shine.
Nose: Occasionally, I come across a whiskey that I just want to sniff for an hour. This is one. It's perfectly balanced. Vanilla, caramel, honey, orange peel, warm rye bread, cinnamon, dry oak, and subtle nail polish.
Tasting Notes: Wonderfully smooth, the flavors match the nose pretty closely. Honey and vanilla sweetness transition into cinnamon, oak, and prickly rye spice. Like other super-premium whiskeys, the classic flavors are extremely pronounced, and there's nothing off-putting about it. The body is thick and coats the tongue. The finish is medium to long and warms the chest.
Overall: A. Probably the best rye I've had.
Peer review:

Adventures in Whiskey
* Disclaimer: Michter's sent us this bottle. We maintain our independence in reviewing whiskey sent by distilleries/PR companies.