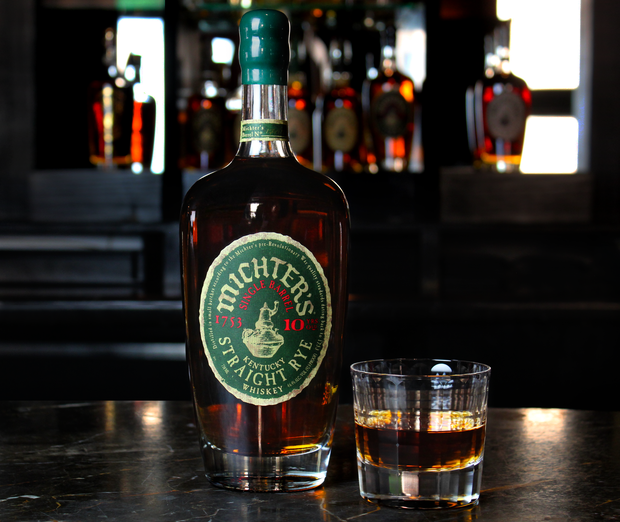 We've got to level with you: Michter's 10-Year Single Barrel Straight Rye is seriously hard to find. But the 2017 release is worth any amount of time spent finding it.
This is yet another damn good rye whiskey, though it is built a little differently. This whiskey is floral and sweet upfront, and cinnamon-spicy on the finish. You can also taste the barrel char like you're standing a few feet away from the fire. At 92.8 proof, you'll want to drink it neat.
There are a few reasons aside from taste that this whiskey might be hard to get your hands on. Michter's special releases have had a sort of public paranoia around them in previous years because of small supplies and some cancelled releases. Last fall Michter's cancelled its Toasted Barrel limited edition, citing a supply shortage for their mainstay products. And 10-Year Rye has only come out twice in the last four years.
Honestly, people buy more than they should because, well, they think it might not come out next year. But realistically, that problem isn't going to happen again. Michter's is getting better with supply every year, and the quality will only go up under master distiller Pamela Heilmann's tenure. Heilmann, previously the distillery manager at the Booker Noe Distillery, has made some of the best bottles of bourbon in recent history, and the 2017 rye is her first release in the position.
While its retail price is around $150 ,the 10-Year Single Barrel Straight Rye is heading toward $400 on secondary markets. Just understand that if you find it in a store, it's a steal at the recommended price. If you find it online, be prepared to pay.
The price aside, this is a wonderful, atypical rye that you shouldn't mindlessly pour late into the night. Don't waste it on ice or educating your curious friends. Embrace the paranoia, and stick it in the back of the cabinet so you'll have enough to make it to next year.