Crews from Sullivan & Cozart Inc. have been working in recent weeks to stabilize the historic Fort Nelson Building at 801 W. Main Street in Louisville.
In 2011, Michter's Distillery LLC announced plans to open a small distillery and visitors' center there. Structural problems in the 123-year-old building have hampered the project.
First, a temporary retaining wall had to be built on the Eighth Street side of the building to brace the structure. Now, workers are in the process of building a steel cage inside the building to support its walls, Michter's president Joe Magliocco told me in an interview this week. The process should help restore the long-neglected building.
"The building was vacant for decades. It literally had no floors over the joist," he said. "This is the structural reinforcement to make it a solid building again."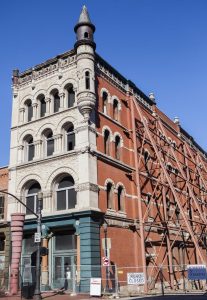 Joseph & Joseph Architects is providing architectural services on the project. The restabilization work likely will go through June, Magliocco said.
The four-story Fort Nelson building has housed several businesses, including a grocery wholesaler and a tobacco exporter. In 2009, it was the site of a stairwell collapse, which injured some economic development officials.
Initially Michter's had estimated that the Fort Nelson project would be an $8 million effort, but Magliocco said the costs have gone up since that estimate.
He declined to put a new price tag on it. A building permit showed that the reinforcing of the building will cost an estimated $2 million.
As Business First reported in April, Michter's also is establishing a 65,000-square-foot distilling and bottling facility at 2351 New Millennium Drive in Shively.