Louisville Distillery Is First New Heritage Member Since 1982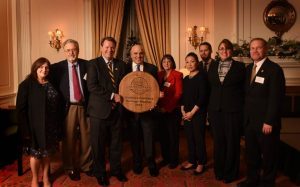 For Immediate Release – December 8, 2015
Left to right: Pauline Rooney – Diageo, Willie Pratt, Eric Gregory – KDA President, Joseph J. Magliocco, Pamela Heilmann, Connie Kam, Brandon Breunig, Andrea Wilson and Chris Morris – Master Distiller for Brown-Forman.
LOUISVILLE, Ky. – The Kentucky Distillers' Association today announced that Michter's Distillery has advanced to the "Heritage" member level, the highest rank in the non-profit trade group that unites and leads the state's signature Bourbon and distilled spirits industry.
Michter's is the first new "Heritage" member since 1982, when Heaven Hill Brands joined the KDA. To qualify as a Heritage member, distilleries must have at least 25,000 barrels of Kentucky distilled spirits aging in warehouses, according to KDA President Eric Gregory.
"Michter's has established firm roots in our beloved Commonwealth and has been making tremendous investments in our legendary industry," said Pauline Rooney, Chair of the KDA's Board of Directors and Vice President of Distilling, Maturation and Engineering for Diageo.
"As a Heritage member, Michter's will have an expanded leadership role in the management of our Association and the future of our timeless craft. This is a historic moment that should be celebrated, as we are all proud of their accomplishments, growth and success.
Michter's becomes the KDA's seventh Heritage member, joining Beam Suntory (Jim Beam and Maker's Mark), Brown-Forman, Diageo North America, Four Roses, Heaven Hill Brands and Wild Turkey.
Michter's joined the KDA as a "Proof" level member in December, 2013. "Proof" is the second-highest tier in the group, following an organizational structure based on production and aging barrels.
"All of us at Michter's are thankful and deeply honored to join the ranks of the KDA Heritage members," Michter's President Joseph J. Magliocco said. "The six existing Heritage members represent the pinnacle of distilling excellence in our industry.
"Alongside KDA President Eric Gregory and the KDA's staff, they have done truly remarkable work to shepherd our industry and expand the market for Kentucky Bourbon, a signature Kentucky product, both at home and abroad in a reasoned and responsible manner. Our team at Michter's will strive to live up to the standards of the Kentucky Distillers' Association."
In the 1990s, Magliocco and his consultant and mentor, the late Richard "Dick" Newman, teamed to resurrect the historic – but abandoned – Michter's brand, which previously had called Pennsylvania its home.
In 2011, they announced the decision to build their own distillery in Kentucky, the birthplace of Bourbon, to ensure access to the best whiskey talent and resources available. All Michter's whiskey offered by their group has been distilled in Kentucky.
Today, Michter's has two locations in Kentucky – a 67,000-square-foot distillery and bottling facility on 5.6 acres in the Shively neighborhood of Louisville and the iconic Fort Nelson Building, currently undergoing a massive restoration along downtown's famed Whiskey Row.
In October 2014, Michter's installed a custom 32-inch copper column still and 250-gallon pot copper pot still doubler in its Shively distillery, which will significantly increase production to satisfy the growing international demand for Michter's small batch and single barrel Bourbons, single barrel ryes and American whiskeys.
For more information on Michter's, please visit www.michters.com.
Founded in 1880, the KDA is the state's voice for Bourbon and spirits issues. There are currently 28 members, the most since the Repeal of Prohibition, and an all-time high of 19 members in its popular Kentucky Bourbon Trail® and Kentucky Bourbon Trail Craft Tour® experiences.
The KDA's diverse membership produces 90 percent of the world's Bourbon, from legendary, global brands to emerging micro distilleries that are building the next generation of the timeless craft and strengthening Kentucky's rightful place as the one, true authentic home for Bourbon.
Kentucky Bourbon is one of the Commonwealth's most historic and treasured industries, a thriving $3 billion economic engine that generates more than 15,400 jobs with an annual payroll topping $700 million and pours $166 million into state and local coffers each year.
The KDA announced earlier this year that the state's inventory of aging Bourbon barrels set a 40-year high in 2014 with 5,669,682 million charred oak casks gently sleeping in Bluegrass warehouses.
Production has soared more than 170 percent since the turn of the century, with only 485,020 barrels filled in 1999. Distilleries crafted 1,306,375 barrels last year – the highest production mark since 1970 and the third straight year with a million barrels born.
KDA President Gregory congratulated the Michter's team and thanked them for their service.
"In just a few short years, Michter's has become an integral part of our Association and our industry, and we couldn't be more grateful for their support and guidance," he said. "We applaud their dedication and commitment to Kentucky and are honored to welcome them as a Heritage member."