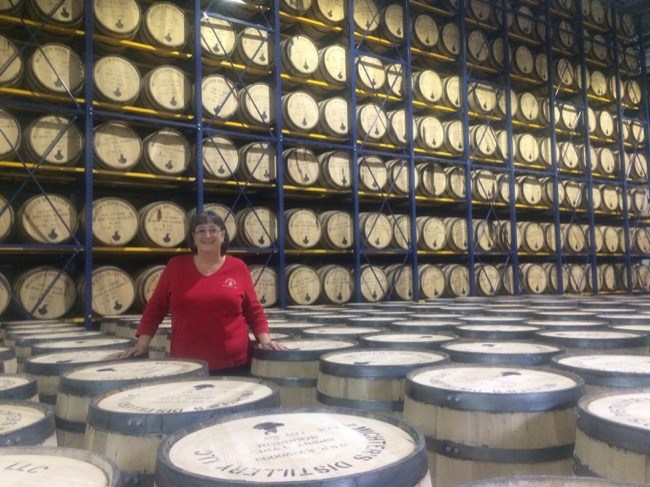 In mid-October, word spread that Louisville's Michter's Distillery was having a shift in senior production staffing.
The master distiller, Willie Pratt, a legend in the industry with more than 45 years of experience, wanted to transition to a more flexible schedule, so he took on the "master distiller emeritus" title. This left the captain seat open and warm.
Michter's president, Joseph J. Magliocco, tells Insider there was no one else he had in mind to step into that position other than Pamela Heilmann, who has worked under Pratt as distillery manager and vice president of production for three years. She came to Michter's from a 15-year stint with Jim Beam.
"When Willie and I were looking to fill the vice president of production position at Michter's, we were thinking ahead about succession for the day Willie no longer wanted to work full time," says Magliocco. "The two of us asked whiskey people we respected to tell us the four best distillers in the United States. Pam was on everyone's list of the four most talented. Her great work at Michter's has surpassed the very high expectations we had when we hired her."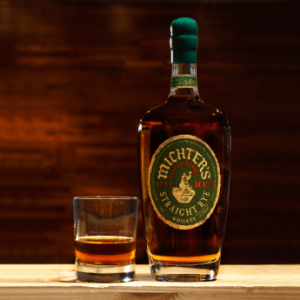 IL stopped in at Michter's on a Tuesday morning to talk with Heilmann about her new title, added responsibilities and drive to continue to produce quality bourbon and whiskey.
She's indeed a fountain of knowledge on the topic of distilling, but when pressed to toot her own horn or even pat herself on the back for career-high accomplishments, she's quick credit her team and the mentors who came before her.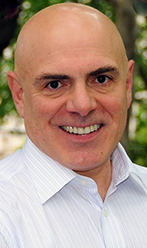 "For me, it's business as usual," she says about the new title. "When I stop to think about it, and think of all the years and all the people I've known who have come before me, I think, 'Wow, it's really an important thing.' But normally it just doesn't register with me."
Heilmann is now one of three female master distillers in Kentucky since Prohibition. She joins Marianne Barnes of Castle & Key Distillery and Joyce Nethery of the new Jeptha Creed Distillery as taste makers in a male-dominated field. But again, it's not a victorious milestone or achievement that ever crosses her mind.
"I think about it when people ask me the question," Heilmann says. "Other than that, I don't. For me, it's about doing my job first. I'm a distiller. If I thought about myself as a woman for the past 18 years, I probably wouldn't be here, to be honest."
Before she got into the distilling industry, she started her career in agriculture and then moved to steel. So being one of a few women in a male-dominated industry is really nothing new. She believes no matter what, you have to be willing to give and take, and learn from anybody — and avoid putting yourself into self-imposed compartments.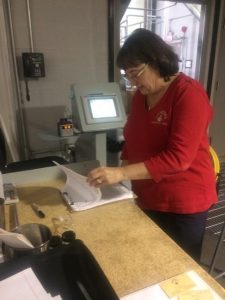 "I'm a distiller. I try to do the best job I can do every day, and if people recognize that, then I'm doing a good job — whether I'm a man or woman or whoever. It shouldn't matter," explains Heilmann. "I get that it means something and is really important. But what's most important to me is just the title of master distiller. I think about all the people who came before me — the Jim Rutledges (Four Roses) and Jimmy Russells (Wild Turkey). When I started at Beam, this was something I never thought about achieving."
The Move to Michter's
Heilmann and her husband were transferred to Kentucky from Syracuse, N.Y., and while she was toying with the idea of going back to school to complete her education degree and teach, she decided to take a job as relief supervisor at Jim Beam. It was here where she truly learned the art and craft of distilling.
"It was something I really liked doing," she recalls. "And it was the first job I ever had that I really enjoyed going to work."
As a relief supervisor, Heilmann worked a grueling schedule relieving people working three different shifts at two plants. On a Monday, she might take the midnight-8 a.m. shift at Beam's Boston, Ky., plant. And on Wednesday, she might be over at the Clermont, Ky., plant from 4 p.m.-midnight. Five days a week, sometimes six, of working all hours of the day and night not only toughens you up, it gives you an accelerated education.
"It was a god-awful schedule, but I learned tons," she says. "If you think about it, how else to learn everything about the distillery but to work on all three shifts and both plants from two great distillery managers and a master distiller?"
Heilmann continued that schedule for about three more years, and then climbed her way up the distillery ladder another 12 years. She worked with some of the elite distillers, including Jim Beam's Booker and Fred Noe, and continued to soak up every last drop of knowledge they shared.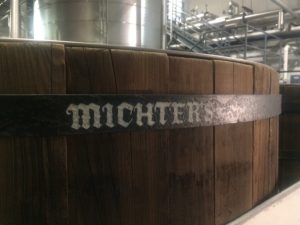 Three years ago, however, she received an offer she couldn't refuse.
The Michter's bourbon brand, which traces its roots back to 1753, had been revived by Magliocco and his consultant Richard "Dick" Newman. They wanted to make the best bourbon and whiskey possible, cost be damned, and they relocated its home base to Louisville from Pennsylvania. Quality was to be first and foremost, and that appealed to Heilmann when she first met with Magliocco and Pratt.
"We do a lot of things here to make sure we make a quality product. That was the one reason I joined Michter's — I read the cost-be-damned thing and all of that, and when I sat down with Joe and Willie, they reiterated: 'Whatever we need to make a quality product, and you know we need it, we'll get that. Whatever it is,'" says Heilmann. "Joe proved it time and time again to me. There were things I suggested we needed for the distillation process that we needed to do this way. It's going to cost more money, but we need to do this. And it was, 'OK, if that's what we need, we do it.'"
The 67,000-square-foot distillery in Shively is pristine, nearly spotless for a working distillery. The towering 46-foot-tall copper still shines from top to bottom, the rick houses are orderly and practically dust free, the bottling room is clean and sanitary.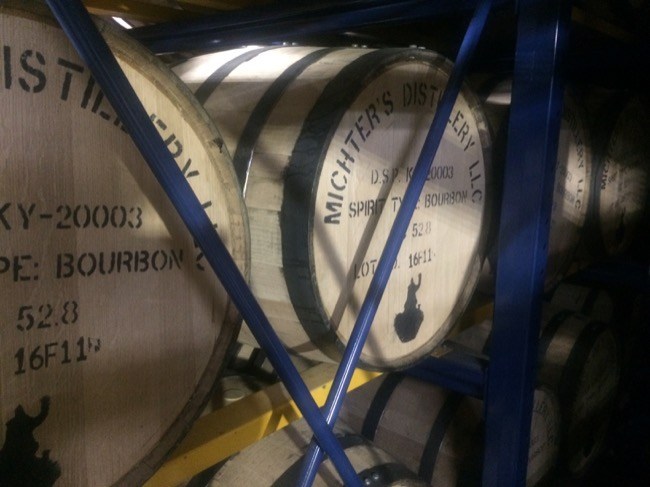 There are several costly parts and methods in place at Michter's that truly set it apart from most others. For one, the distillery uses a 100 percent copper distillation system. While copper is an important component in distilling, helping to remove sulfur and other unpleasant byproducts from the alcohol, it's expensive to have an entire still made of the metal.
Most have copper up near the top and in the plates near the top and then use stainless steel toward the bottom. But not many distilleries can boast having more than 11,000 pounds of copper on premises like Michter's.
Heilmann also points out that Michter's pays more for its barrels because they're both toasted and charred, and one of the distillery's guidelines is to put the bourbon into the barrel at 103 proof, as opposed to the more typical 125 proof.
"Many big producers would never be able to do that because it would cost them millions and millions of dollars not only in barrels but in storage," she explains. "It takes more barrels to cut that down to 103. A new warehouse costs $7 million. So somebody who makes millions of proof gallons a year can't do that. They might do it with some of their products, but we've committed to doing that, and it makes a big difference."
What kind of difference?
Hellmann breaks out her science for this one, but in the end, she says it creates warmth when you swallow the bourbon — instead of that harsh burn. Do you want to know why?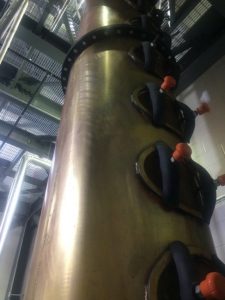 "Phenols give you that burn, but by adding the water initially to the bourbon as it enters the barrel, they break down better. When you add that water up front, it gives the phenols more time to break down. Plus, adding that water gives the product the benefit of the barrel for five or so years," she says. "When we take the bourbon out of the barrel, it's at about 110 proof. Others are usually around 140, 145. We're not putting in as much water at the end, so we're leaving more of that flavor, and you get that incredible mouth feel. It's more viscous because we don't have to add as much water at the end — and Willie used to say water and alcohol do not mix."
'Dr. No'
Willie Pratt brought with him more than 40 years of distillery experience when he joined Michter's as master distiller. And he quickly developed a reputation and nickname of "Dr. No," referring to when he decides a barrel of bourbon is ready for consumption.
So is Heilmann prepared to embrace the Dr. No persona and everything it entails?
"I guess I am. That's what they tell me," she laughs. "Joe said it's something that goes with the brand. Willie started that, and Joe said I'm going to get that baton and carry on the tradition. I have no problem with that, because for me, it is all about the quality as well."
Magliocco also has no doubts she can live up to Pratt's pickiness.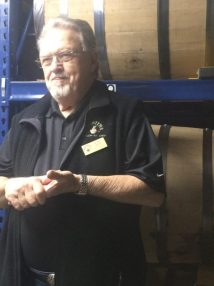 "I am thoroughly confident Pam can assume the 'Dr. No' position at Michter's and thrive in it," he says. "She has worked very closely with Willie Pratt, and she shares his fierce dedication to offering excellent whiskey."
Heilmann has indeed worked closely with Pratt since coming on board, and just like her days at Beam, she pays close attention to every bit of information he parts with.
"Willie is a wealth of knowledge," she says. "You just sit in a room and learn stuff from Willie. He's a master at warehousing and aging. And that was probably a weak spot for me — that area of the process. So I've learned so much about warehousing, the barrel itself and the whole process."
The Future
Heilmann and the Michter's team are looking forward to creating and releasing more products — including the December release of its coveted Celebration Sour Mash Whiskey that retails for $5,000 — in the near future.
And while most of its inventory is allotted throughout the world, you can still find its American Whiskey, Straight Rye, Kentucky Straight Bourbon and Sour Mash at area bars, restaurants and liquor stores.
Michter's is also planning to begin construction on a downtown Louisville distillery at the site of the Fort Nelson Building on West Main Street. This has been in the works for quite some time, with setbacks in renovating the historic building, but Heilmann is confident Michter's will have a presence downtown in 2018.
With Heilmann at the helm, Magliocco has no doubt Michter's brand will continue its rise.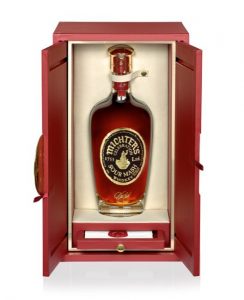 "I could write a book about Pam's strengths," he says. "She is enormously bright. While she is extraordinarily strong in the technical aspects of distilling, she has a great palate and she understands that making whiskey is not just a science, but is also an art. Pam is very popular with our production team because she is a great teacher and a born leader."
And for Heilmann, she knows she's right where she's supposed to be.
"I believe things happen for a reason. Now, with all this, I think for sure things happen for a reason," she says. "There's a reason I'm here. There's a reason I did what I did and went to work for Beam. There's a reason I came and started with Joe. I love the industry, and I love what I do."