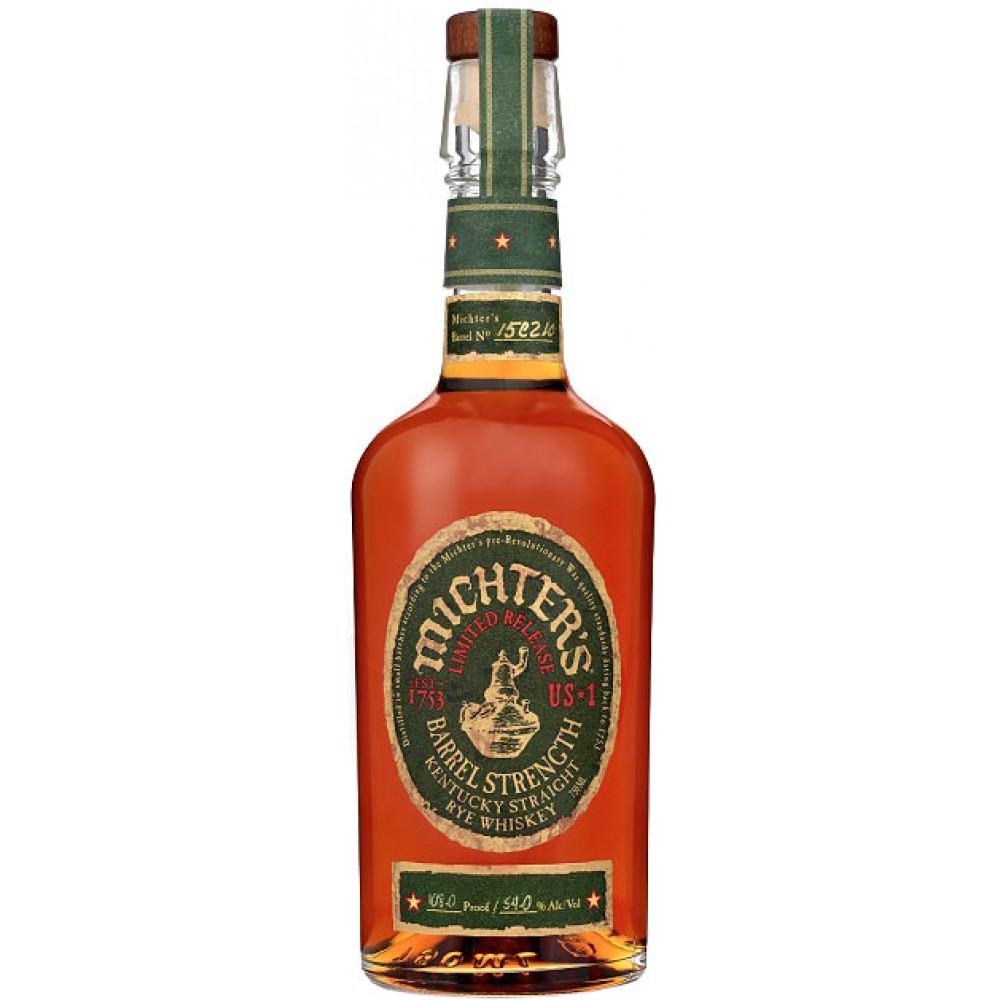 Released in May, Michter's US*1 Barrel Strength Rye is only the second limited edition from the Louisville-based bottler and (now) distiller, following on their Toasted Barrel Bourbon. This is also the only Michter's whiskey billed as a cask strength/barrel proof, although some of the older releases from Michter's are in the same neighborhood for alcohol content.
The Whiskey
This expression is 55.1% abv or 110.2 Proof. While this is lower than many barrel proof releases, Michter's believes, and I'll quote their press release on this, "The barrel entry proof for the product was 103 proof, a strength that Michter's believes will yield a richer, smoother product than a higher entry proof would. After aging, the barrel proof for the majority of barrels of this first release ranged between 108 proof to 110.8 proof. The single highest proof barrel reached a strength of 113 proof."
Color: Reddish Copper
Nose: Rich might be the easiest way to describe this release. The nose is full of butterscotch sweetness, vanilla and cocoa powder. Its nose is almost as rich and fragrant as the Michter's older releases, like their 10 Yr Old Bourbon (a personal favorite).
Palate: This release reminds me of honey cinnamon graham crackers with hints of apple poking through. It is a beautiful release that is full of flavor, and fulfills the promise of the nose. In many ways this reminds me of their older releases (like the 10 Year Old Rye and the 10 Year Old Bourbon) so for that alone it must be applauded. The texture is silky smooth for a good while before it gets spicy and the oak appears at the finish
Finish: Long, sweet and spicy. It's definitely a rye but still holds true to Michter's established house style
The addition of water rolls back the smoothness of the release, bringing on a sweet menthol burn in its place. The rye makes more of an appearance and cuts through the candy sweetness that is a Michter's trademark.
This is an amazing whiskey. It definitely became something I wanted to stock up on (especially as it is a limited release). It gives you a lot of what you'd expect from an older release. As good as the Toasted Barrel was, this is even better.
Addendum By Richard Thomas
Rating: A-
I agree with my colleague: high proof often makes for better whiskey. At 110.2 proof, Michter's Barrel Strength Rye is well within my 120 proof line for "must add water," and indeed, it doesn't actually need any.
On the nose, cedar mixes with caramel candy and cookie spice to make for an old school bakery scent. As usually is the case when you up the proof, flavors become bigger and bolder. It's a gourmet caramel candy, layered in sweet spices and with a woody, minty current running straight through it. The finish is length and sweet, but light.

The Price
This release runs between $50 and $75 dollars US depending on where you find it. As it is a limited release that price will fluctuate.